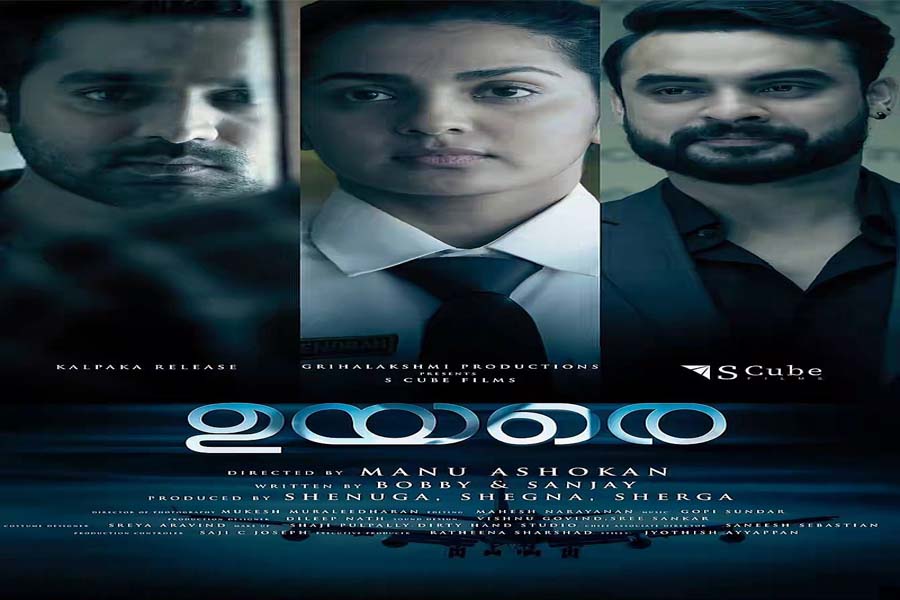 'Triumph of the will against all odds' is the most captivating form of storytelling in the world; it captures the audience by the scruff of its neck no matter how much it is convinced of the outcome. Writer duo Bobby-Sanjay knows this better than anyone else in this part of the world. Their latest venture Uyare has Parvathy Thiruvoth as an acid attack survivor who becomes no less than an air hostess in a private airline.
One may say that a lot of water has flown under the bridge since the release of the film to dwell on the story but to give wholesomeness to the points discussed below, it will be good to refresh one's memory of it as yours truly visited the theatre for the second time to watch the film to write this.
Pallavi Raveendran (Parvathy), a bright free-spirited college girl excelling in academics and extracurricular activities, is embroiled in a suffocating relationship with a schoolmate of hers Govind (Asif Ali). She has been nurturing the dream of becoming a pilot since her school days. And she gets selected for the pilot training course in an institute in faraway Mumbai. Her father, played by Siddique, gives her a surprise by showing her the selection letter just couple of days before after making every arrangement for her to fly for the training.
This news doesn't go down well with Govind who is still under-employed and has personality issues to deal with. In the flying school Pallavi is seen progressing well but, her personal life is hindering her prospects. It reaches a boiling point when she is humiliated publicly, and she decides to put a full stop to the relationship leading to the horrific incident that can be said to be the pivot of this film.
Thankfully the writers and debutant director Manu Ashokan do not take a textbook approach to show us how devastating the experience is for the victim recuperating from such an accident and for the people surrounding her. Her indomitable spirit gives the narrative a certain buoyancy even in the face of a terrible tragedy. A few pointers are weaved into the story organically that's all.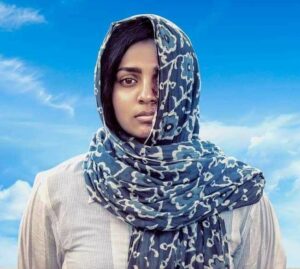 Then as the oft-repeated saying goes that the universe conspires if you wish for something with all your heart it manifests. So, here appears a wingless angel in the form of Vishal Rajshekhar (Tovino Thomas) as a scion of a business tycoon who owns an airline called Cloud Nine. He takes up the gauntlet of making Pallavi an airhostess in his airline making the announcement with much publicity and fanfare. But, their flight of fancy isn't that smooth from the beginning as we see a middle-aged lady squirming in her seat on seeing a scarred member among the cabin crew but that very next moment she is offered a hug by an elderly gentleman as a mark of appreciation. A applauding moment.
As we see most of the lines uttered, emotions conveyed or bottled up inside are chiselled to bring out a message or show us a larger picture, yet a couple of things seem to be out of place; one of them is when Govind gets into a flight to talk to Pallavi to tell her to withdraw the case against him where her reaction is mildly violent as is expected from any human being; Vishal instead of supporting her righteously tells her to render an unconditional apology or face dismissal (he does redeem himself in the climax when he tells Pallavi to take charge of one of his aircraft stuck in turbulent weather and its Captain has collapsed).
The other is when Vishal invites Pallavi for birthday celebrations; she is surprised to find herself to be the lone invitee and understands where things are headed. She stops Vishal in his tracks before he confesses his feelings for her saying that she isn't ready for such a relationship. What she needs is a good friend that he already is. But, what surprises us even more is the gift she has chosen for him, a book by social media savvy spiritual guru/god man because he is interested in philosophy. He surely deserved better!
All seen and said, Uraye is a path-breaking film in many ways and one of its kind. The warning against smoking and alcohol consumption is mouthed by the lead actor. It may be for the first time that we hear it in a female voice – that of Paravathy.