When we eat something that not only looks special but also tastes exceptional, it transports us to a happy place, even if it is just for a moment. Bun Club, as the name suggests, makes fresh, warm and fluffy buns. They create magic with bread.  We loved the garlic bread, milk bread and focaccia bread. From basic sandwiches to Bunwiches, stuffed buns to BC Club buns, gourmet steaks to their very own bestseller Lava Bun, whatever the place offers is excellent in terms of both quality and quantity.
The classic Chicken Caesar Salad has been kept simple and savory. The salad is a perfect combination of Iceberg Lettuce and chicken tossed in classic creamy dressing, topped with sundried tomatoes and crispy Ciabatta Croutons. This salad made our palate happy. The sublime flavor and crunchiness of the lettuce makes it a safe option for every occasion.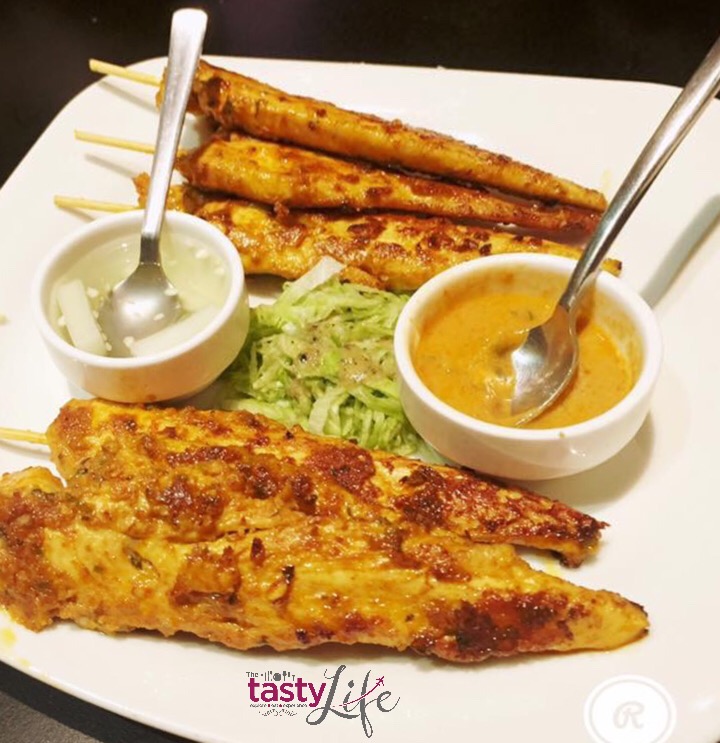 The Oriental Style Chicken Satay has been modified to suit the Indian palate and is one of the best we have ever tried. That is only if you like Indian spices though. Spiced well and grilled to perfection, this satay leaves you with a feel-good flavor on your tongue and makes you crave for more.
The sandwich bread is always well toasted and has that light crunch when you bite into it. The fillings are equally good and are not just a pitiable smear of veggies and dressing. The Club Sandwich tastes very different and has layers of lean sliced chicken patty, grated carrot and cheese. Surprisingly, these ingredients work well together, although a little sweet. We also tried the Grilled Chicken Sandwich and Chicken Pesto Sandwich. The pesto sandwich has been made with focaccia bread and was delicious, although the pesto sauce overpowered the flavours of the chicken a tad bit.
The Penne Alfredo was a delight. The white sauce was smooth and creamy and dressed with chicken cubes and julienne cut veggies and herbs, tossed in penne. It was delicious on so many levels that our taste buds didn't know how to react.
Fresh from the oven and baked with love, the Lava Bun is one of the specialties served at Bun Club. Crisp on the outside with a generous helping of butter makes it a good combination for a quick snack with a cup of tea or cappuccino. The Lava Bun with its distinctive aroma is also visually appealing.
We even tried the kid's meal on the menu, which consists of a Crispy Chicken Mini Burger, a small hot chocolate or any fresh juice, and French fries – which no burger is complete without. This makes it a decent meal for kids. The hot chocolate is said to give you a hug from the inside and this one does exactly that. The hot chocolate has a perfect texture with the right amount of sweetness and is served at the perfect temperature. It was so good that we couldn't resist ourselves from ordering more.
The Moroccan Tea was a major let down.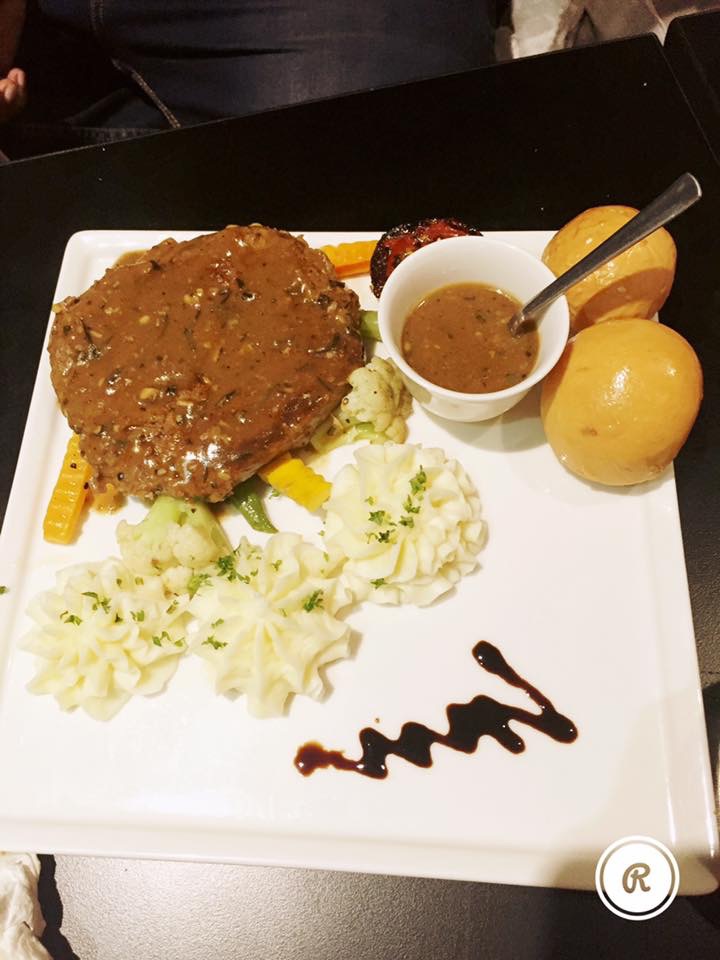 We also tried the beef and chicken steaks. Both steaks were well-presented. They were piping hot and had good portions. The dishes here were served with flavorful tenderloin/chicken with just the right amount of sauces. Steamed veggies, gooey mashed potato and buns made for lovely sides. We loved the grilled chicken steak as the brown sauce blended with it more smoothly than the beef steak. Every bite tasted amazing. The fire grilled beef paired well with the Espagnole Sauce. It was slightly peppery yet very peppy.
The Spicy Coconut Chicken was slightly disappointing in terms of quantity. The diced chicken is pan tossed in creamy thick coconut sauce along with onions and mushrooms. The Tom Kha sauce adds flavor to this beautiful combination. This dish touches all your taste buds with its creaminess, tanginess, and is all spiced up to bring you happiness.
A Virgin Mojito normally refreshes the soul. The wow factor was missing in this drink, maybe because the sugar scale of the drink was quite high for us.
We also tried out the very innovative Chicken BC-Club Buns. These buns are stuffed with minced chicken, fresh vegetables, parmesan cheese, and are topped beautifully with egg. This BC-Club Bun is a must-try if one is in Calicut.
"A party without a cake is just a meeting," said a wise man once and we always follow this idea. We tried the Red Velvet Cake with layers of soft red velvet cake and cream stacked beautifully, and covered with whipping cream. An a.m. sugar rush is a sinful temptation that turns thin dreams into fat pleasures. We were expecting it to be very heavy, but to our surprise it was not that sweet and tasted perfectly divine.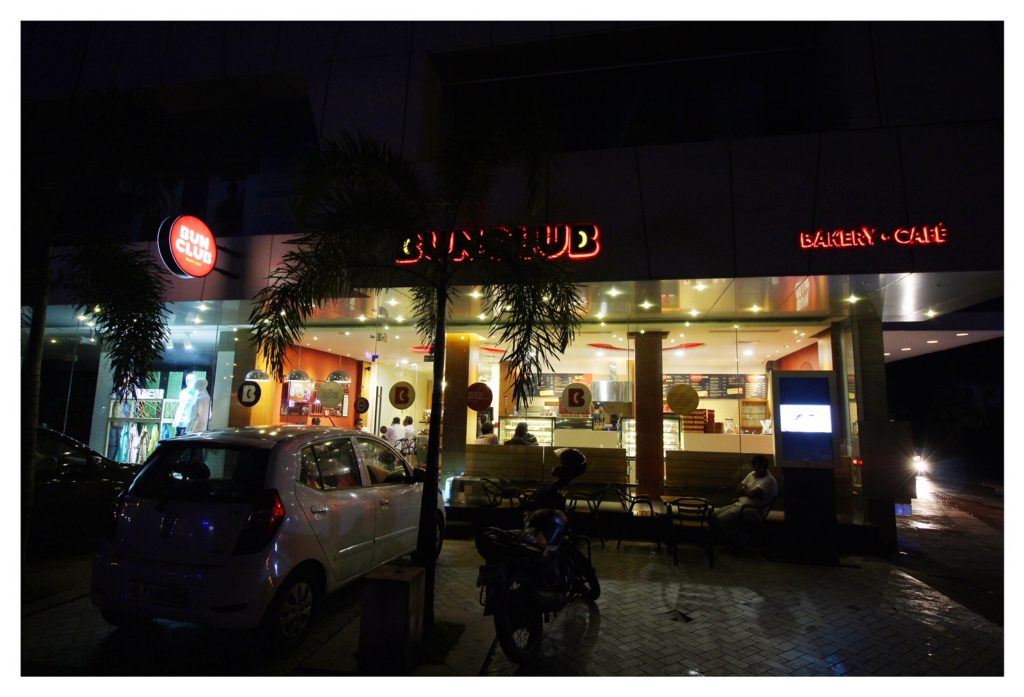 The Tasty Life Recommendations: The Lava Bun, BC-Club Bun, Penne Alfredo, Chicken Satay, and Chicken steak.
Restaurant name: Bun Club
Location:
Asma Tower, Mavoor Road, Arayidathupalam, Kozhikode.
VeePee Space building, Erinjipalam.
Near MIMS Hospital, Govindapuram.
This review has been written by The Tasty Life.